'

Collective Stands for AgroTechs' at Fruit Attraction 2023
Enjoy your own stand and participate in the most important horticultural event
Once again, we will be present at the international reference horticultural event, Fruit Attraction 2023, held at IFEMA Madrid from October 3rd to 5th, 2023, through our «Collective Stands for AgroTechs ,» designed to provide AgTechs with a space to showcase their technology to nearly 100,000 fair attendees.
Our goal is to ensure that you can participate in the event under the best conditions, being able to have a Collective Stand that allows you to have maximum visibility and the greatest generation of business opportunities, located in the best location (in the Central Hallway), with a high flow of visitor traffic.
We provide you with maximum notoriety and visibility with our VideoWall
We are thrilled to offer you a spectacular new feature – a cylindrical VideoWall measuring 6 meters in diameter and 2 meters in height, where we will display your logo and platform presentation video to the tens of thousands of attendees who will pass by our stand.
Can you imagine the tremendous impact that this spectacular and innovative way of displaying your logo and video will have among your potential clients, institutions, and media?
We will be the reference in the 'Smart Agro' area of Fruit Attraction 2023
In the 2022 edition, we had a 'AgroTechs Collective Stand' measuring 64m² (8m x 8m). Last year, we wanted to validate the concept of this type of 'Collective Stand' to gauge its acceptance, and the proof of its success is that two exhibiting AgroTechs who contracted us for 12m² last year have now reserved 48m² and 64m² respectively, and another AgroTech that came with a 2m² Mini Stand has now contracted us for 12m².
For the 2023 edition, as of April 1, 2023, we have reserved almost 200m², which means that we have already reserved an Island measuring 128m² (16m x 8m) and are on the verge of securing a second full Island.
Our ambition is to have 4 Islands of 128m², which translates into more than 500m² of AgroTechs exhibition space.
We will become the reference stand that all visitors interested in innovation and digitalization and looking for a digital partner will have to visit without fail.
Will you miss the opportunity to capture new customers and strengthen your relationship with your current ones?
Ensure your success by exhibiting in our «Collective Stands for AgroTechs»
In general, the secret to success at a trade show can be summarized in five aspects:
1) Enjoy an excellent location within the exhibition hall.
2) Have the ability to attract visitors with a huge Collective Stand that stands out and becomes the reference point in the Smart Agro zone within Fruit Attraction.
3) Attract your potential customers.
4) Gather all technological and innovative offerings. Visitors who come to Fruit Attraction in search of innovation, digitization, etc. will definitely have to visit our «AgroTechs Collective Stand» as this is where they will find all the technological offerings, all the AgroTechs located in the same space.
5) Ensure that there is always a crowd generating the impression that «something interesting is happening» because we know that people are interested in stands where there is a lot of activity.
6) Turn the «expense» of attending such an important trade show into an «investment».
These are the features that we offer you through our «AgroTechs Collective Stand,» because:
1) We will be located in the Central Hall, where most of the visitors pass through. As you can see at any fair, if you don't hire a huge Stand, it is impossible for you to be in a privileged location and with great visibility with a small one. With us, you can achieve this. If you hire directly with IFEMA, you will be in a worse location (4th or 5th aisle, facing the wall, «at the back,» etc.). We offer you the best location with minimal investment.
2) As several dozen AgroTechs offering a wide range of technologies, we will have the capacity to attract many visitors who will be interested in learning about your technology. And mainly, because we are pioneers in offering that your logo and presentation of your platform can be displayed in an absolutely spectacular VideoWall that will surely appear in all media as a summary of what Fruit Attraction 2023 is.
3) Once you have contracted the Stand with us, we will ask you about the profile of your target customer, to which type of Agro companies you address. At the institutional level, from the Association, we have the capacity to attract the most important personalities and your potential customers.
4) By having a Collective Stand where we bring together all the technological offerings presented at Fruit Attraction, you will lose many opportunities to generate business with your potential customers if you exhibit in other pavilions or if you do it through your own Stand individually. If you are not interested in the Stand formats that we offer you and want to have your own «island» type Stand, we offer you the possibility of renting «only the floor» on which you can apply your own design. 
5) By bringing together so many AgroTechs in the same space in our «AgroTechs Collective Stand,» only with the employees of each AgroTech (at least 3-4 people per Stand), we always have the Stands full of people, giving the feeling that «there is movement,» and that arouses the interest of visitors. As we already know, people are curious and unconsciously go where they see people gathered, it awakens our interest.
6) We analyze whether a fair is «expensive» or «cheap» based on the result achieved: if we have paid little but the results are poor, we have wasted money… but if we pay a higher price but the result is much more satisfactory, we feel that we have paid a competitive price and have made the investment profitable.
This is our main goal: to make you pay a very competitive price and generate the greatest business opportunities for you.
The reason is straightforward: we are a non-profit association, and we do not have the ambition to make money by organizing this (but we cannot afford to lose money we do not have either…) By having several such large Collective Stands, we can negotiate the best conditions with the organizers and with the fair suppliers (for example, Stand builders) and apply all these discounts to the price of your Stand, in better conditions than what IFEMA offers you.
Therefore, participating in our «AgroTechs Collective Stand» at Fruit Attraction will not be seen as an expense, but as an investment from which you can obtain many benefits.
Our «Collective Stands of AgroTechs» are located in the Smart Agro area within Pavilion 5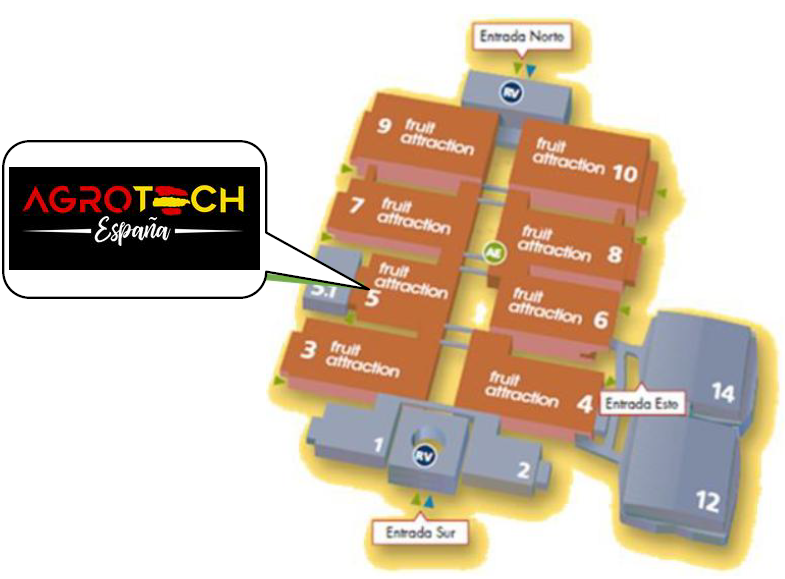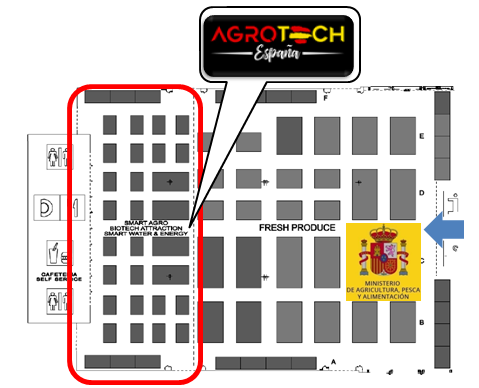 Take a look at last year's «2022 Collective Stand for AgroTechs» which had 64m² (8m x 8m), where 10 AgTechs exhibited, 4 of which were of international origin:
By participating in our «Collective Stands for Agrotechs,» we offer you these added values:
AFFORDABLE
Join us with your own stand starting from only 2.000€ (the cheapest price at the entire fair)
BUSINESS
We increase your business opportunities by attracting your potential clients to your booth
VISIBILITY
You will enjoy a privileged location in Central Hallway within Pavilion 5 (Smart Agro area)
PRESENTATIONS
You can organize round tables and commercial presentations to show your platform
NETWORKING
We enhance your Networking with Prospects, Public Institutions, Entities, Associations, etc
SYNERGIES
Find other partners like AgTechs with whom you can generate new projects
INTERNATIONAL
Presence of international AgroTechs, which attract more potential costumers
PERSONALIZED
We design your personalized booth with your corporate image and logo to boost your branding
TURNKEY
You only have to worry about bringing your Business Cards, we take care of the rest 🙂
We have designed the stands so you don't have to worry about anything: just remember to bring your business cards, your RollUp, your laptop, and start selling!
We offer 8 types of stands.
Proposal for Entities, Institutions, Embassies, etc
We offer Institutions the opportunity to have their own island where they can locate their country's AgroTechs.
As a distinguishing feature, you will be able to enjoy a large cylindrical LED screen on which we will display the Embassy or Entity's logo, as well as a promotional video.
Likewise, we will also display the logo and promotional video of the AgroTechs exhibiting on your island.
Are your rates more expensive than those of IFEMA?
Nope!
We are making a titanic effort to match the same price that IFEMA offers you directly, so at the same price, it is preferable to come with us, don't you think?

I want to customize the Stand with my own design to enhance my branding: is it possible?
Yes, in all stands except for the Minis (2m²), you can personalize the back wall with your own design.
Depending on the contracted stand, you can customize from 2m, 3m, 4m, 6m, 8m, 12, and 16m long (from left to right) by 1.50m high (all have the same height).
Between 1.50m and 1.80m high, we add your logo on a white background in those 30cm so that attendees can easily identify you.
If I am an associate, is the price lower?
Yes, if you are a Premium Member, you can enjoy a 5% discount, which represents savings between €100 and €1,200, depending on the size of the stand.
How long will my logo and video be displayed on the VideoWall?
If you choose a stand of 2m², 8m², 12m², or 16m², the time slot will be 30 seconds, consisting of:
5 seconds to display your logo
25 seconds to display your video
If you select a stand of 24m², 32m², or 48m², the time slot will be 60 seconds, consisting of:
5 seconds to display your logo
55 seconds to display your video
If you book the 64m² stand, you will enjoy a time slot of 90 seconds, consisting of:
5 seconds to display your logo
85 seconds to display your video
I don't have any video for the VideoWall. Can you create it for me? Is it included in the price?
Yes, we can create the video for the VideoWall for you. You just need to provide us with images of your platform and we will use a template to configure it to fit the size of the cylindrical screen (6 meters in diameter and 2 meters in height).
This cost is included in the price of all stands, except for the 2m² (Mini) stand.
If you contract the 2m² (Mini) stand, you can still display your logo and video on the VideoWall with the basic template for just 250€.
If you already have a presentation video, can it be used for the VideoWall?
We have defined that for each exhibitor, there will be time slots of 30, 60 or 90 seconds (depending on the contracted m²), of which 5 seconds will be used to display the logo, and the remaining 25, 55, or 85 seconds will be used to display the presentation video of your platform.
If you already have a platform video that exceeds the allotted time, we will have to edit it to fit the time slot and also configure it to the size of the cylindrical screen (6 meters in diameter + 2 meters in height).
The cost of this service is included in the stand fee (except for the 2m² stands, which will cost an additional 250€).
When making the reservation, what amount should I pay you? What is the payment timeline?
You will need to make a bank transfer for 50% of the total amount of the Stand you select at the time of making the reservation.
The remaining 50% to complete the total amount must be paid before August 1, 2023.
Will I be able to select the precise location of my booth?
Yes, after the selection made by exhibitors from last year's edition.
Can I hire additional furniture?
Yes, you can hire additional furniture such as tables, chairs, high tables, stools, TV screens, etc.
You can check the options on the Stands page.
Can the Stand sizes be modified?
We offer sizes ranging from 2m² (2m x 1m) up to a 64m² (16m x 4m) stand.
We always need to respect a depth of 4m and the frontage to be an even number (except for the 12m² stands, which are 3m x 4m).
The height of the back wall must always be the same: 1.80m high.
What stand size are you considering?